You can also make appointments online. To do this, follow the online appointments link below.
Please note that the first step is to select your attending physician. After completing and submitting the appointment request, you will receive an email message asking to confirm the appointment within 30 minutes. Only after clicking the conformation link in that email message your appointment will be booked for you and become visible in our system. If you do not confirm the appointment, the appointment will not be booked into our system and may be assigned to others later.

Link to user external provider DGN Deutsches Gesundheitsnetz: Online appointment booking (click here)
The online booking tool is only available in German.
Please note:
Dr. Schuler and Dr. Schlote don't accept new patients via online-booking
For yellow fewer vaccinations you have to book a consultation in 'Sprechstunde Lenz'
Here is a short guide to the booking process:
1. Click on the link Online appointment booking (click here)
2. Choose your doctor / type of appointment from the drop down menu and click on 'Termine anzeigen' (show appointments)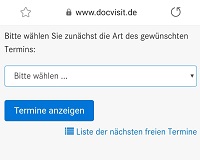 3. Choose a time convenient to you and click on that time. You can navigate through the weeks with the blue arrows.
4. Enter your information: Choose 'Frau' or 'Herr',  Vorname: first name, Nachname: surname, Geburtsdatum: date of birth etc. Under Patient you have to choose either Neupatient if you are new to your practice or Bestandspatient if you are a patient at our practice already. You have to agree to the Datenschutzerklärung. Sicherheitsabfrage is displaying a simple arithmetic task in German. You have to enter the result in digits i.e. for zwei plus drei you would enter 5. Finally you have to click on Terminanfrage senden.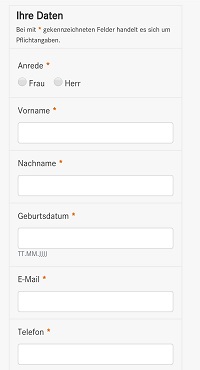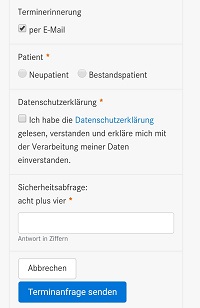 5. If everything worked out you will see this message and an email is sent to the email address you provided.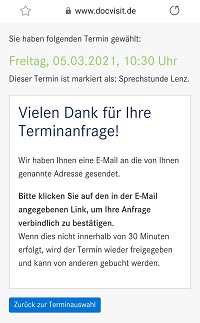 6. Check your email for a message with a confirmation link to confirm your appointment. It is very important to confirm the appointment by that link within 30 minutes. Otherwise the appointment will not be booked into our system.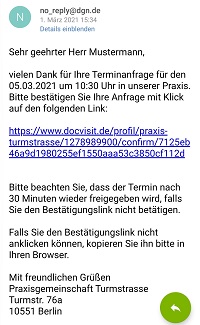 7. After clicking the confirmation link you should see a confirmation message: